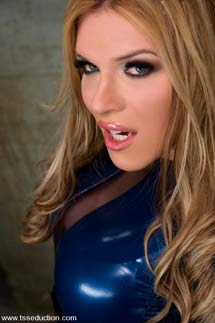 Alright so for the people that like their American shemales with a bit of kink attached I would have to recommend TS Seduction.  This site is filled with American tgirls like Jesse here that love to torture, dominate and fuck the hell out of their slaves.  There are many Brazilian sites that do this but it is rare to find American shemales par taking in this dark side of porn and I am not talking about Star Wars here, though seeing a shemale in that princess Leia outfit from the third movie would be fucking okay.
TS Seduction really is an impressive site and I was very surprised by the movies inside.  They actually have a story line.  You remember those old school porn movies that tried to tell a little story before the fucking well TS seduction does a lot of that and to be honest it isn't half bad.  Don't worry there is lots of fucking, sucking, fetish and cum blasts for everyone but it's kind of fun to have a site that spends a little more time with the videos.

TS SEDUCTION IS FILLED WITH AMERICAN TGIRLS WITH A FETISH ATTITUDE, JUST ASK NATASSIA, LOVE THOSE TITS ON HER!