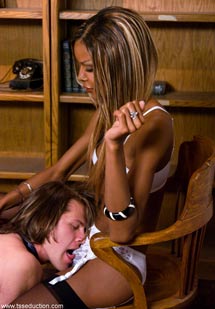 Mistress Soleli is back and this dark skinned beauty is looking to play all night. That guy is in a lucky position, between her legs with a bulge coming through her panties. If he didn't know she was a hot shemale before he certainly does now. Her hair is looking amazing in her new video and this ebony beauty has a great cock and ass. Mistress Soleli is going to bend this guy over the desk and fucking take him. That's what you get when you are snooping around the boss's office.
The tgirls on this site are so fucking hot. I love how they talk, suck and of course fuck. Finishing you off with a warm cumshot is the way I would want to end the night or at least this first session of fucking. I am positive I could go a few rounds with a girl like Soleli. Her sex drive is probably off the map and when she pulls down those white panties to give you a dark surprise you will be begging for more.

THERE IS NOTHING HOTTER THEN A TGIRL LIKE SOLELI TELLING YOU TO SUCK HER COCK! I THINK THIS GUY IS IN FOR IT, TALK ABOUT A SHEMALE BANG!