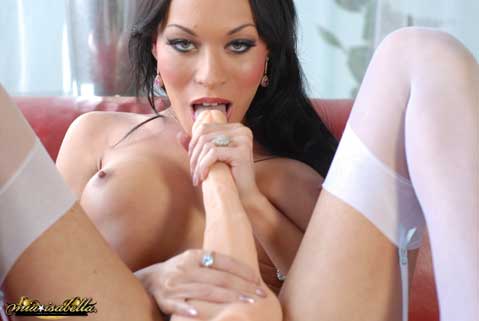 To be honest I don't even think Mia Isabella needs a dildo to suck since her cock is so huge she can probably do it herself. Thought I guess she could use it for sticking it in her sweet booty when her man isn't around. This girl certainly has made some amazing changes throughout the years. We all know she has a huge shecock but those giant boobs had to come from somewhere as well!
She has managed to stay quite slim while still giving us all the things we want to see big! Cute face, great performer and I am sure is very desired by many fans. I also love that she enjoys wearing garters and stockings; something I think always makes shemales look so much hotter. Perhaps I have a fetish about it!
MIA ISABELLA
STILL CONTINUES TO UPDATE HER PERSONAL SITE, SHE SAYS IT IS A LABOR OF LOVE AND I AM ALWAYS HAPPY TO SEE MORE OF THIS GIRL!