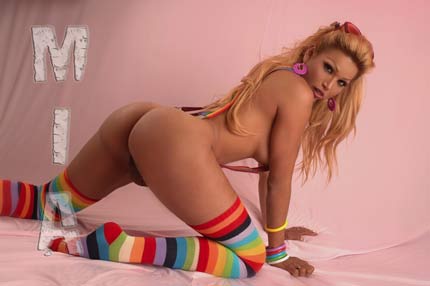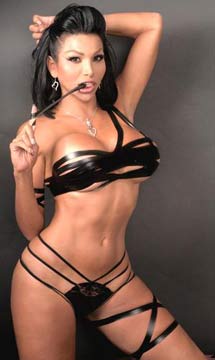 Mia Fever I must say is one of the hottest shemales I have ever seen in my life.  I just recently found some random photos of her and damn she is so fucking beautiful I almost passed out.  If anyone knows of any sites where she is on then please let me know.  I have only found her on Shemale Strokers where she whips out her huge cock and it really is big and strokes to a dirty cumshot.  The movie is awesome.  The bottom photo is from her video on the site the other photos are not on Strokers but ones I just found.
Her body is just fucking amazing, never have I seen such a thick toned body with such a beautiful ass, tits and of course cock.  I would do almost anything to meet Mia Fever and think she should have her own pay site in my opinion.  She has got the looks, the attitude and of course the desire to suck a hard cock.  I wish all American shemales looked like Mia Fever, in fact I almost wish all girls period looked like her to increase my chances in sleeping with her.  She is simply gorgeous, definitely a new addition to my top 10 tgirls.

AS I MENTIONED BEFORE THE FIRST TWO IMAGES I JUST FOUND ON THE INTERNET BUT THE BOTTOM ONE LINKS TO SHEMALE STROKERS WHERE MIA FEVER APPEARS STROKING HER HUGE COCK, GREAT SITE IF YOU LOVE CUMSHOT ACTION!