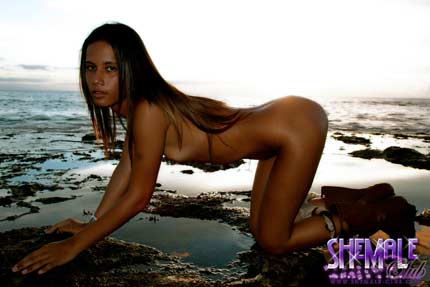 Keilana Love
is looking beautiful with the sun's rays bouncing off her golden skin.  Her long flowing hair, those sexy eyes and what an incredible body.  I think I like her tight ass the best.  When she pulls down her bikini bottoms to give you a naughty view of that tight little hole you just got to fucking fall in love right there.  Well maybe lust would be the better thought because I am not sure I have an emotional connection with her.  Perhaps if I ever met her then I might but for now I just want to fuck that shemale pussy all night long.
She is actually the tgirl of the year inside of Shemale Club.  She is a favorite of many and it's hard to believe she is only nineteen.  This is one of my favorite photos from within the site.  I am member of most of the sites I post about so I can give you a little extra taste on whets inside.  If you ever want to talk about joining a site then just sent me a comment.  You just got to love girls just like Keilana Love.

THEY ALSO GOT JESSICA HOST INSIDE THE SITE, SHE IS QUICKLY BECOMING A FAVORITE OF MINE AND WHAT A GREAT SHECOCK!