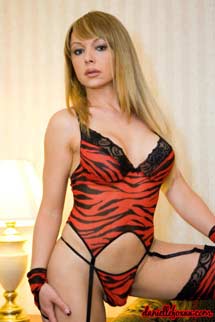 Danielle Foxxx is one of the most popular American Shemales.  She is very much desired by many men and I am sure some women as well.  Personally she isn't one of my favorites but she is so popular and I have had so many requests I thought I start posting some hot galleries of her.  Don't get me wrong I would gladly fuck her and wouldn't mind at all having her as my girlfriend.
Danielle Foxxx is really well known for her sexual abilities.  This girl loves to fuck and her blowjob skills are well let's say sensational.  There are not many girls or transsexuals in the world that can give a better sucking then Danielle Foxx that is for sure.  She also has a pretty impressive shecock and always has the hottest outfits to drive you crazy.  I am not a member of this site yet but would love to hear your thoughts on what it's like inside.

DID I MENTION THAT ONE OF HER BEST LESBIAN SHEMALE FRIENDS HAPPENS TO BE VICKI RICHTER! YOU ARE SURE TO FIND HER INSIDE AS WELL!